content
Feb 01, 2023 09:18:46 PM
Server Rates
20x Solo-Exp
25x Party-Exp
15x Drop-Rate
7000x Fairy Growth

TRANSLATE
Note: Not all translations may be 100% accurate.
CURRENT STATISTICS
Accounts
Characters
244,300
333,841
Guilds
20
Online now
Online peak
239
1393
The server is currently Online
Stats update every 5mins
View server uptime
PK RANKINGS
Ranking List

Rank
Player
Score
(Kills-Deaths)
The-Real-Tycoon
1,244
[CoG]avetharun
938
~Lizzy
808
+Remy.
777
[-_-]+Savage~~
751
6
SpallanZany
750
7
l~[#Groggy#]~l
749
8
[Narco]
596
9
-[#24]+Wegzz~
521
10
Itachi-
505
News View
June 18 2014
by [Admin]Rage
New Clients & Auto Patcher

Hey guys, a lot of people were having problems with our auto patcher and because I could not fix it since it was not my creation, I have decided to create a custom one for ROSO.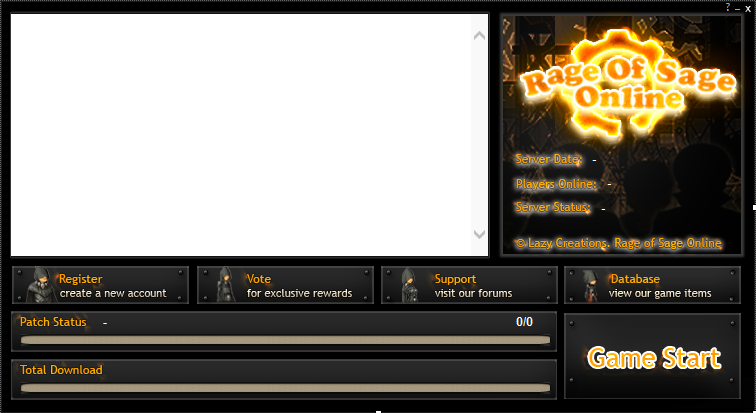 Note: You must use this auto patcher if you wish for your client to automatically be updated from now on
There are 3 ways to obtain the new auto patcher
1.) Open your current auto patcher and it should say "Updating patcher..". It will then update that patcher to our new one.
2.) Download just the auto patcher
from this link
and replace it with the current patcher in your ROSO Client
3.) Download one of our clients which has been updated and contains all patches including the new auto patcher
-
4Shared Mirror
-
CX Mirror
-
DepositFiles Mirror
-
DropBox Mirror
-
File Dropper Mirror
-
Game Front Mirror
-
GigaSize Mirror
-
Mega Mirror
-
Uploaded Mirror
Thanks,
ROSO Team