content
Server Rates
35x Solo-Exp
40x Party-Exp
25x Drop-Rate
7000x Fairy Growth

TRANSLATE
Note: Not all translations may be 100% accurate.
CURRENT STATISTICS
Accounts
Characters
214,685
285,055
Navy Guilds
Pirate Guilds
53
84
Online now
Online peak
294
1395
The server is currently Online
Stats update every 5mins
View server uptime
MONTHLY CHAOS RANK
Ranking List

| Rank | Player | Points |
| --- | --- | --- |
| | -[IfuSeeMeRuN]- | 277 CA Points |
| | [-IfuSeeMeRuN-] | 218 CA Points |
| | -Ark~yn- | 151 CA Points |
| 4 | [LeRoiDeSnake.] | 138 CA Points |
| 5 | ~z5~ | 120 CA Points |
October 16 2014by [Admin]Rage
Server Online - Patch [Oct 16th, 2014]

Hey guys, server is back online!
Download the following patch if your autopatcher cannot update your client automatically
- Patch October 16th, 2014 -
Halloween Town
It's almost halloween, and the ghosts and ghouls are coming out to play.
a portal to the mysterious Halloween Town has appeared, and is
letting pirates come in if they dare. The portal is located at (2252,2685) Argent city. It will open every 13 hours and stay open for 12 hours.
You will need a pumpkin or a deathsoul mask equipped to enter. Inside Halloween Town, you will see a bunch of mobs. These mobs drop Halloween Event Card and on halloween day, you will be able to exchange them to the npc for a certain amount of Haloween Goodies!
Super Lollipop - Doubles Str for 10 seconds
Huge Chocolate - Doubles Con for 5 seconds
Spr Lollipop - Doubles Spr for 13 seconds
Acc Lollipop - Doubles Acc for 10 seconds
Agi Lollipop - Doubles Agi for 10 seconds
There is a boss: Halloween King (Respawns Every 4 Hours. Located at 138, 281), who will drop a Halloween Bag. Once you open the good bag, you will gain 5x of each lollipop and additionally, there is a 15% chance of gaining a random amount of Hydros fruit!
However, the Halloween King does not seem to want to share and his minions have joined him!
Every 3 hours a random minion will be spawned in Halloween Town!
Pet Exchange
Pet Mall Reika has been upgraded! You are now able to obtain 2nd Gen Pets from the Fairy Exchange Option.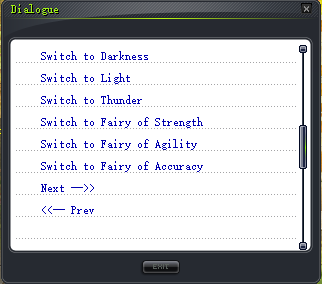 Note: Fairy of Constitution can only be obtained by pets lv126 and under
Other Changes
-If you win inside of Chaos Argent, Chaos Tundra, Bounty Hunter PK, or Battle Royal
In order to obtain your prize you will now have to obtain it via the Reward Sheep (1352,547) Icicle City.
No longer does it matter if you have a full inventory or not. The only way to obtain the rewards is by the rewards sheep.
Note: You must claim your reward within 3 hours of the reward being awarded.
For Example: Win CA at 01:45 and you can only redeem the prize until 04:45. After that it is expired and you loose the chance at gaining that prize.
This will not be stack-able in the same map. For Example: Win 1st CA and inventory is full. If you win the 2nd CA without claiming your prize from the 1st CA, you will loose the chance at gaining the 1st CA prize.
-Guilds with less than 10 members are deleted
More Halloween Events will be posted in a few days
Thanks,
ROSO Team
comments powered by

Disqus