content
Sep 29, 2023 11:49:55 AM
Server Rates
20x Solo-Exp
25x Party-Exp
15x Drop-Rate
7000x Fairy Growth

TRANSLATE
Note: Not all translations may be 100% accurate.
CURRENT STATISTICS
Accounts
Characters
246,029
337,051
Guilds
20
Online now
Online peak
319
1393
The server is currently Online
Stats update every 5mins
View server uptime
PK RANKINGS
Ranking List

Rank
Player
Score
(Kills-Deaths)
~Lizzy
6,378
[#24]+Savage~
3,964
~*Jutyx*~
3,751
Tycoon~
3,236
l~[#Groggy#]~l
2,124
6
SpallanZany
2,095
7
[CoG]avetharun
1,430
8
-[#24]+Wegzz~
1,334
9
[Narco]
1,309
10
zSkill.
1,304
News View
September 9 2020
by [Admin]Rage
Update Log [Sep 9th, 2020]

Hey players,
We have applied a new update on September 9th, 2020.
Download the following patch if your auto patcher cannot update your client automatically.
Update Details
[Update #1]
Added the accepted Custom Apparels.
[Update #2]
Expedition Treasure Maps will now display the location of the treasure when you hover directly over the item.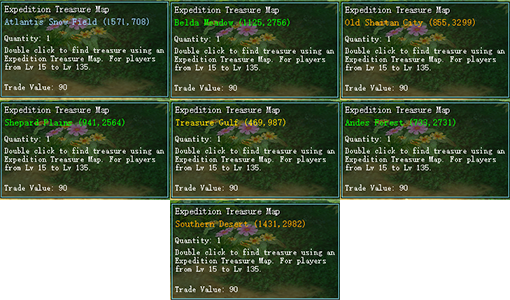 [Update #3]
Added the ability to change your Enhanced cape to another type by using another Enhanced Catalyst.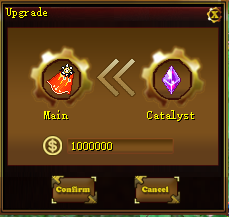 Note1
: You will not lose any Contem stones during the change.
Note2
: You can open the upgrade window with command "/upgrade"
[Update #4]
Added the ability to choose the currency of each item when you set a stall. (100m Notes, 1-Billion Notes, or 100-Billion Notes)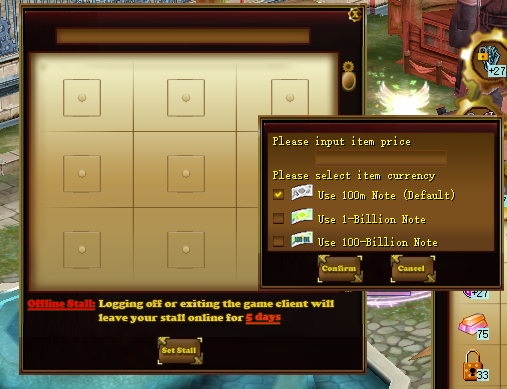 Note1
: The default will always be 100m Notes.
Note2
: Regardless of which currency you choose, the limit will still be 32,000x of that currency. 32,000x for 100m Notes (3.2T), 32,000x for 1-Billion Notes (32T), and 32,000x for 100-Billion Notes (320T). If, for what ever reason, you need to sell an item for more than 320T, we highly recommend you trade them normally and accept '1-Trillion Notes' as payment.
Note3
: Due to this change, the stacking limit of 1-Billion & 100-Billion Notes has been changed to 30,000.
Note4
: The 'Currency Selection' UI form is currently only available on the 'ROSO' skin. Using a skin that does not have the 'Currency Selection' form will default to 100m Notes as the currency when setting a stall.
Note5
: A reminder that you can switch between notes using command '/notes ?'.
[Update #5]
When switching equipped items, the equipment will be placed in the location of the item in the inventory being equipped. This allows you to have specific slots for items without messing it all up when switching gear.
| Old switching | New switching |
| --- | --- |
| | |
Note1
: If there is an empty slot before the equipment in the inventory that you're switching with, the switching will occur as originally intended.
Other Changes

- Stun maximum duration in Sacred War has been limited to 6 seconds.
- You can no longer sell 1-Billion, 100-Billion, 500-Billion, and 1-Trillion Notes directly to NPCs.
- You can now lock 'Runic Sigils' with the Item-locking stones.
- Fixed an issue that sometimes removed a player's offline stall before time expired.
- Fixed an issue that caused large delays in the gameserver during a player's level up.
- Fixed an issue that sometimes caused the client's server time to be out of sync for several minutes.

Feel free to report any bugs in our discord's
#bug_report channel, or any suggestions you may have in our
#suggestions_channel channel!
Thanks,
ROSO Team