content
TRANSLATE
Note: Not all translations may be 100% accurate.
ROSO Game Guide
Welcome to our Game Guide! These guide(s) were made in order to help you out in your journey through ROSO!
For more information about any item(s) or monster(s) in our server, check out our Game Database
Note: You can hover your mouse over any icon for more details about that item.
This guide was last updated on May 10th, 2023
Current Raid Guide
The Beast's Lair
This is an objective-based maze which will require players to work together to reach and defeat the boss. Afterwards players can farm throughout the map.
Opening Times
Friday & Saturday, 1PM server time.
Map duration: 8 hours (closing at 9PM server time), or until the boss is defeated.
Restrictions
-Players must be advanced to a second-tier class (Crusader, Sharpshooter, Cleric, Merch, etc.) to enter the map.
-Only players above lv136 can enter.
Objectives
1.) Kill 2 Mini Bosses
2.) Kill the Frenzy Warlord Yeti
3.) Kill the Raid Dragon
Map Layout
Maze Layout
Legends-
Yellow Lines
(s) - Correct Path(s)
White Dot
(s) - Raid Dragon
Black Dot(s) - Mini Bosses
Blue Dot
(s) - Portal to Raid Room
Green Dot
(s) - From Portal to Spot
New Items
New Apparel
(Runic Kylin App)
Note: Set Bonus : (Could be changed in the future)
+10 Str
+10 Agi
+10 Spr
+10 Con
+10 Acc
New Helmets
How To:
Obtain the new Wyvern Helmets?
You will need to obtain 50x Wyvern Shards from the new Raid. Then exchange them for the crystal at the Raid NPC located at Argent Fountain.
Obtain the new Wyvern Shards?
There is currently 2 ways to obtain the shards .
1.) Kill the Raid Dragon and he drops
2.) Participating in the new Raid and meeting your class DMG requirement.(It isn't a 100% chance to obtain a shard)
Obtain the new "Runic Kylin App"?
You will need to first obtain the "Raid Dragon Alter"
Then you will need to farm the new Power of's and Raid Angelic Dice.
After you have farmed the Power of items you will double click the Power of "Flame" and feed it to the alter.(Has fail chance)
Each time the Power of items fail adds +1 Curse Point to the alter. You will need to feed the Raid Angelic to the Alter to remove the Curse Points.(Dice have a fail chance)
Once All Seals are set to 0 and there is 0 curse points on the Alter you will need to Sacrifice 1x Lv9 BD Gem.
Lv9 Black Dragon Eye = Runic Kylin App Set
Lv9 Black Dragon Soul = Runic Kylin App Set
Lv9 Black Dragon Heart = Runic Kylin App Set
Obtain Raid Power of [Flame,Thunder,Frost,Wind] and Raid Angelic Dice?
Every mob outside of the Raid Maze drops the Raid Powers and Raid Angelic Dice.
Additional Raid Addons
Tribal Zones:
There are 2 Different Tribal Zones.
Each Location has a boss and tribe protectors.
Each Boss Has a chance to drop a "Raid Power Pack" Which contains 5x of each power and 5x Raid Angelic Dice.
Runic Sigil
[How to Obtain - Step 1]
You must first get 3x Shattered Sigils

You can obtain them from Raid Dragon Igneel and Snake Queen.
| Raid Dragon Igneel | Snake Queen |
| --- | --- |
| | |
Note1
: These will have a 30 second protection time when they drop.
Note2
: Snake Queen drops 2x Shattered Sigils, and Raid Dragon drops 1x.
[How to Obtain - Step 2]
Once you have 3x Shattered Sigils
AND
a Runic Kylin Apparel set
UNFUSED
, head on over to Raid Administrator in Argent City (2229,2795) and select Runic Sigil option.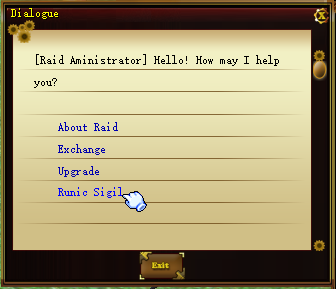 Confirm that you have the required items

Then select "Obtain Runic Sigil"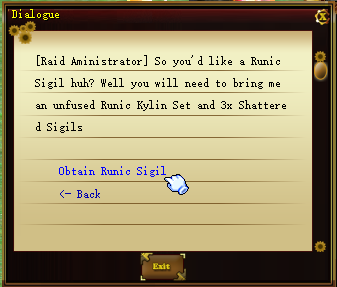 You will now be given a Runic Sigil

that will give you the same effect as the Apparel Set.
Note1
: You will not be able to continue if your Runic Kylin Apparel is gemmed or fused. Make sure you have done Apparel Fission on the set before you start.
Note2
: You must send the Runic Sigil to your temporary bag in order to have effect. Place it on your 4th inventory slot and use the command "/temp"
Note3
: You
WILL
lose the Apparel Runic Kylin Set upon gaining the Runic Sigil
Note4
: Runic Sigil is not trade-able or drop-able.