content
TRANSLATE
Note: Not all translations may be 100% accurate.
ROSO Game Guide
Welcome to our Game Guide! These guide(s) were made in order to help you out in your journey through ROSO!
For more information about any item(s) or monster(s) in our server, check out our Game Database
Note: You can hover your mouse over any icon for more details about that item.
This guide was last updated on May 10th, 2023
In-Game Shop
In-Game Shop
We now have opened the In-Game Shop (In game item mall)! Now before you go "Great more maller stuff", everything in this shop will be available in-game hence the name In-game Shop. The IGShop uses a currency called Crystals.

| 1 IGS Crystal | 5 IGS Crystals | 10 IGS Crystals | 50 IGS Crystals | 100 IGS Crystals |
| --- | --- | --- | --- | --- |
| | | | | |
You can obtain IGShop Crystals 3 ways.
1.) Completing the quests given to you from the [IGShop Administrator]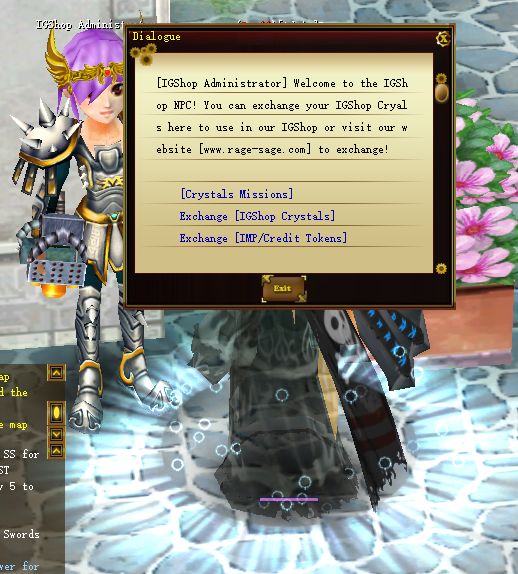 located in each of the 3 Main Cities. Argent City (2215,2771) Shaitan City (894,3570) and Icicle Castle (1299,494)
2.) Obtaining them from Terror Chests obtained from Tower of Terror
3.) Events
The quests all "newish" type that are different from the normal. (Normal Quest Ex: Hunting Mobs, Collecting Items, etc). These quests have different objectives to them.
Note1: Replace X with a map name. (Ex: Chaos Argent). Replace Y with any number. (Ex: 8)

[OBTAINING QUESTS]
In order to obtain a quest, you must go to the IGShop Administrator and click on [Crystals Mission]. You will then be given a random quest.

[QUEST RESTRICTIONS]
There are a multitude of quests and the only restrictions are that you must be within a level range in order for a certain quest to show up.

Ex: A Lv150 player will not obtain any quests related to a map they cannot access. Such as Forsaken City, Dark Swamp, or Chaos Tundra.

Once you have obtained a Crystal Mission, you cannot abandon it. You must complete it before you can obtain another Crystal Mission.

[QUEST STATUS]
Since this is a different type of quest, you will not be able to see your status using the original game quest window. In order to see your progress on a certain quest, use the command "/quest".

[WHAT TO DO WITH IGSHOP CRYSTALS?]
Once you have obtained IGShop Crystals, you can exchange them for crystals on your account. There are 2 ways to exchange them.
1.) You can visit the IGShop Administrator In Game and exchange them there
2.) Visit the crystal exchange page on our website [www.rage-sage.com/home.php?act=igshop]

[ACCESS THE INGAME SHOP?]
The button should be the shopping cart button near your mini map. However this can vary depending on your client skin.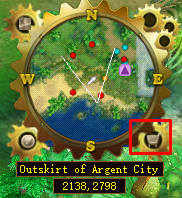 You must enter your account's security code before you are able to enter the InGame Shop.

Note1
: This means that you must enter a map 1 time per opening. Ex: Chaos Argent opens every hour, if your task is to enter 3 times, you must enter once at each opening.
Note2
: Conditions must be met before the player is actually counted towards your task. Only players that you kill with Different IP Addresses will be counted.
Note3
: You can "re-choose" your random quest up to 10 times in a 30minute period. (In other words, if you obtain a quest you don't like, you can obtain another random quest up to 10 times in a 30minute period.)