content
TRANSLATE
Note: Not all translations may be 100% accurate.
ROSO Game Guide
Welcome to our Game Guide! These guide(s) were made in order to help you out in your journey through ROSO!
For more information about any item(s) or monster(s) in our server, check out our Game Database
Note: You can hover your mouse over any icon for more details about that item.
This guide was last updated on May 10th, 2023
Level 150 Skill
There are three types of "new" skills. The first one can be obtained from Quests in Dream City, the other in Shaitan[tele], the newer ones from bosses.
Shaitan NPC Skills
Requirements
A couple of billion dollar notes.
ROSO Energy Card
I really haven't understand these skill until I Hinata from the forum posted enough details. Here they are:
Skill Name
Classes Required
Info
Vibe Slash
Seal Master
Powerful, has a nice cooldown.
Crusader
Champion
Covert Fog
Voyager
Offers the ability to stealth for a short duration.
Cleric
Champion
Energy Bulwark
Seal Master
Works like SM's energy shield, lasts ~20 secs
Champion
Halo Salvation
Cleric
Self heal, 16k base, cooldown 1-2mins
Energy Web
Cleric
3 sec stun, physical & magical attack
Champion
Each skill mentioned above costs Energy from 7-10, depending on the skill.
Lv150 Skills
Requirements
You need to be lv150
ROSO Energy card in inventory(200m at shaitan 903, 3566)
The energy of the ROSO card will decrease by 1 each time you use the skill.
Names
| Class | Skill Name | SP Needed |
| --- | --- | --- |
| Crusader | Mirage Slash | 550 |
| Sharpshooter | Full Body Explosion | 540 |
| Champion | Titan's Fury | 650 |
| Voyager | Almighty Uproar | 550 |
| Seal Master | Demonic Tears | 100 |
| Cleric | Spiritual Aid | 250 |
| Merchant | –NONE– | 0 |
Effects
Crus : Damages the surrounding area with a physical AOE attack
Sharpshooter : Damages the surrounding area with a physical AOE attack
Champion : Increases hitrate hp , def , dodge and attackspeed for a small duration
Sealmaster : Decrease target's physical resistance in area
Cleric : Deals Magical lightning damage in the surrounding area
Voyager : Deals Magical damage in the surrounding area
Where to obtain
You can buy them from players(easy way) or by killing bosses
They are randomly dropped by these 4 bosses.
| Boss Name | Location | Info |
| --- | --- | --- |
| Master Pet | Dream Island(393, 616) | Enter portal, go left(96, 151) |
| Hell Sky | Icicle L4 Map(1329, 538) | Just follow the map |
| Volcanic Beast | Summoned, see 4th Rebirth | Can also be bought from players |
| Barbarossa | Skeletar Isle | Follow the map below |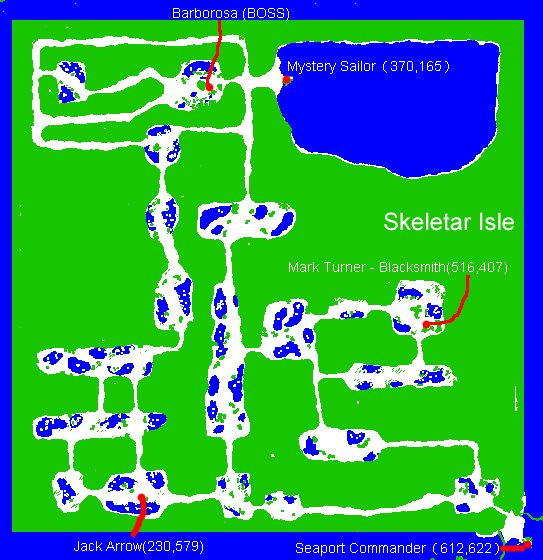 Video/Preview