content
TRANSLATE
Note: Not all translations may be 100% accurate.
ROSO Game Guide
Welcome to our Game Guide! These guide(s) were made in order to help you out in your journey through ROSO!
For more information about any item(s) or monster(s) in our server, check out our Game Database
Note: You can hover your mouse over any icon for more details about that item.
This guide was last updated on January 20th, 2019
Rebirth
Rebirth 1 → 3
Requirements
You need to be atleast lv 70 and up
Rebirth 1: 30 Kals
Rebirth 2: 60 Kals
Rebirth 3: 99 Kals
5000 Reputation
Caribbean Tour Ticket
Atleast 10 Inventory Slots
Doing Rebirth is also another great thing here, Only 2 stack's of kal's and you have First, 2nd and 3rd RB
Kals are easily farmed — just go to DW 2.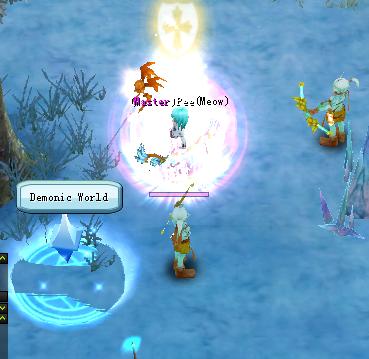 Once you got the kals, you will need a Goddess Favor. This can be obtained in Reputation Exchanger(see npc coordinates) for 5k reputations.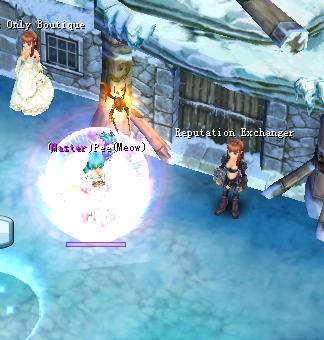 After getting the Goddess' Favor, you need to go to Heaven by Using Carribean Tour Ticket which can be bought at Ticket Seller beside Argent Teleporter.
When you're at the Caribbean go at Heaven Teleporter(472,1054) and follow the road up ahead.
Look for Stones (i think, idk i forgot her name) and obtain your rebirth stones!
Make sure to put all your equipped equipments to the inventory before doing rebirth!
Rebirth 4
Requirements
You need to be lv135 and up
You need to have 700k reputation/rb4 start
Start!
Go to Mysterious granny outside argent to obtain the items to start.
Then once you get the 4th rb start, click the npc again and you can start the quest!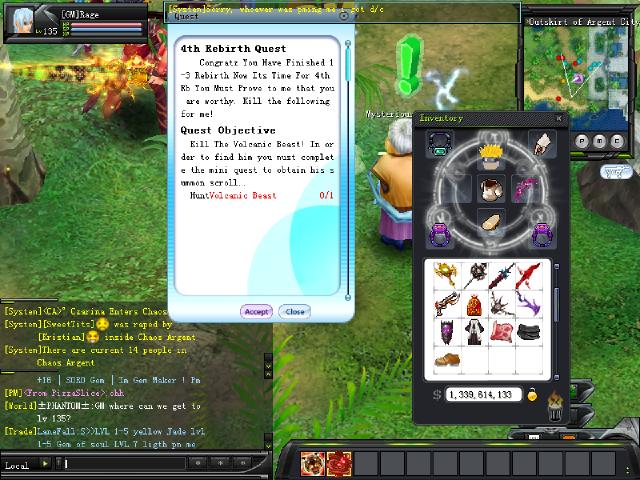 After that, you have to complete a sub-quest to be able to kill that mob.
which is in Valhalla heaven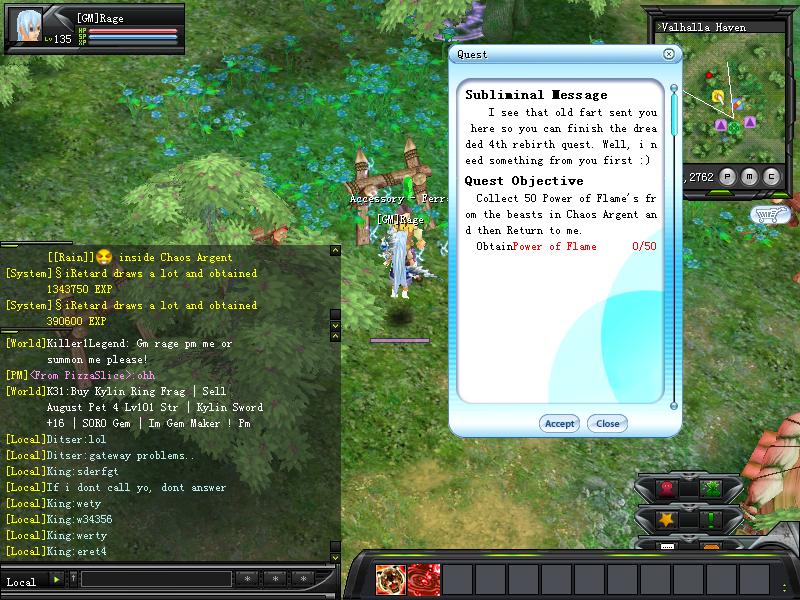 complete the quest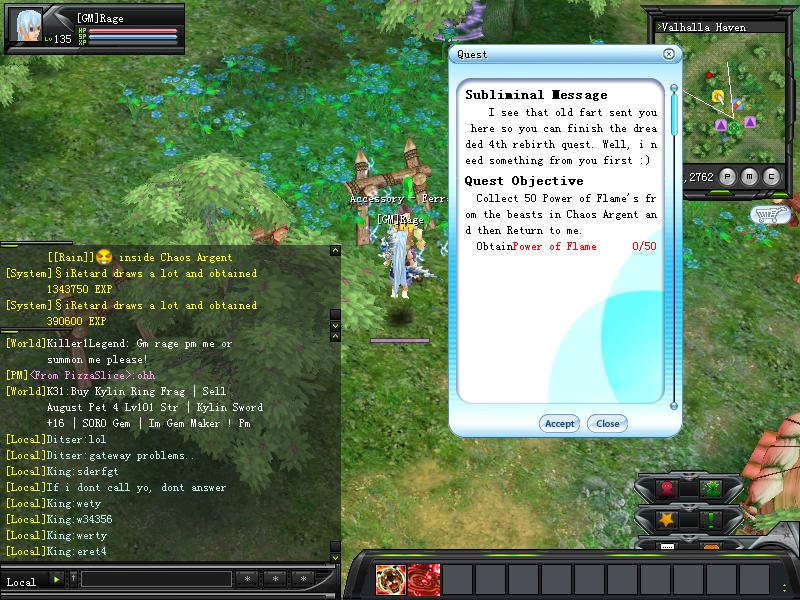 and you will get a summoning scroll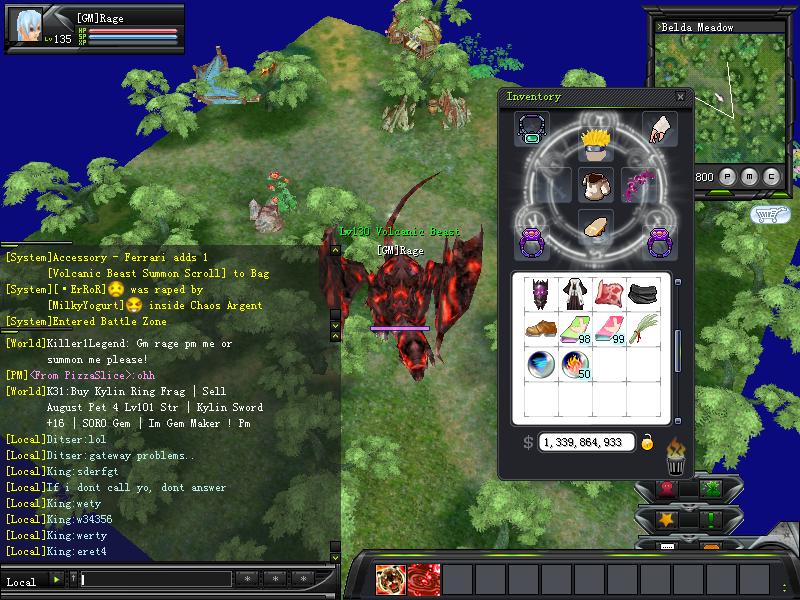 kill the beast and go back to the guy in Valhalla
Next, go back to the old granny to complete part 1 of the quest.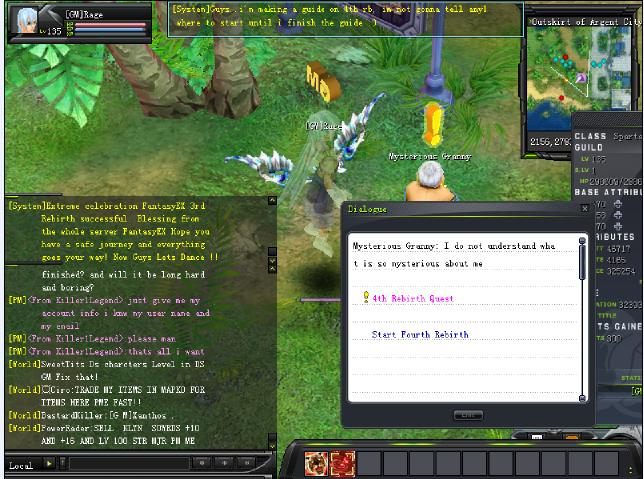 After you do that, we go to Argent Secretary Slavier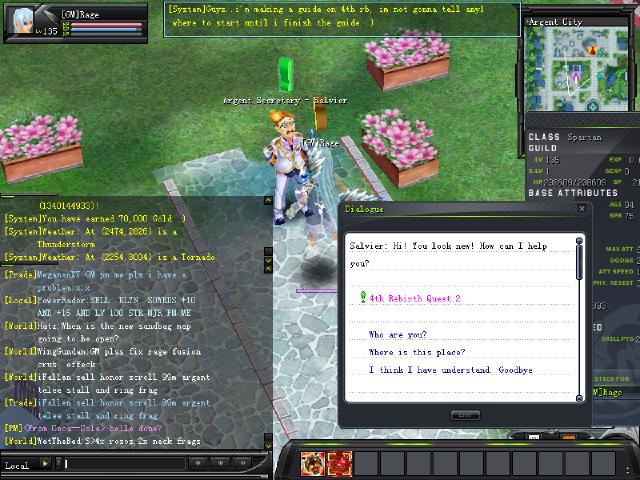 and kill 2x lava dragons (Can be found in volcano isle)
then go back and complete the quest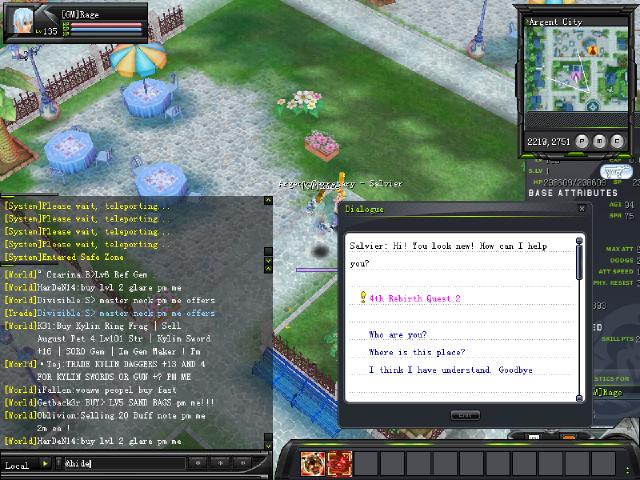 Next go to old man blurry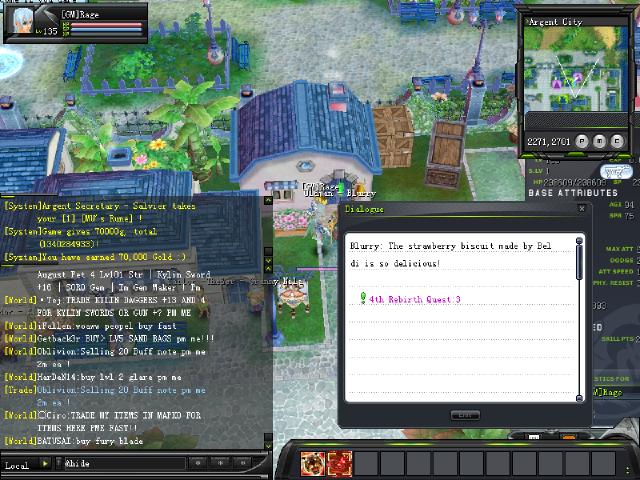 who will then ask you to kill 4x Master Pets (Yes i know! he is back :p)
Master pet is located at Dream Island (93,152)
Respawn time: every 4h
then finish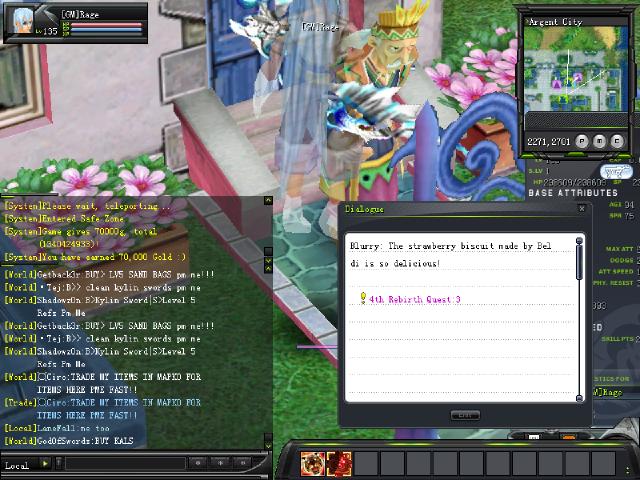 Next go to Wowo in shaitan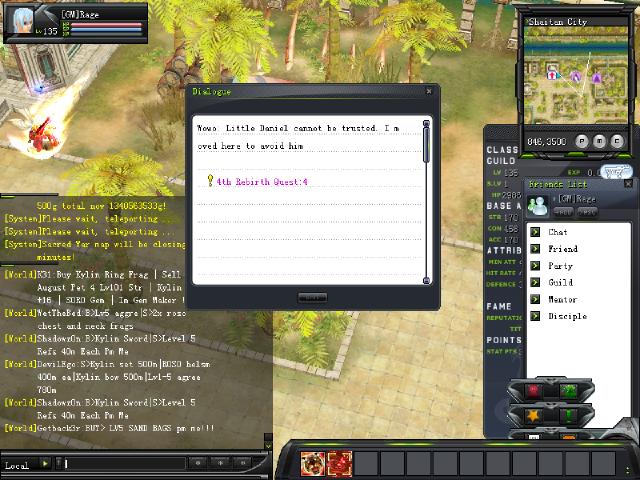 get the quest then you will have to complete the sub-quests for part 4 to find the mobs, you can get the sub-quest in solace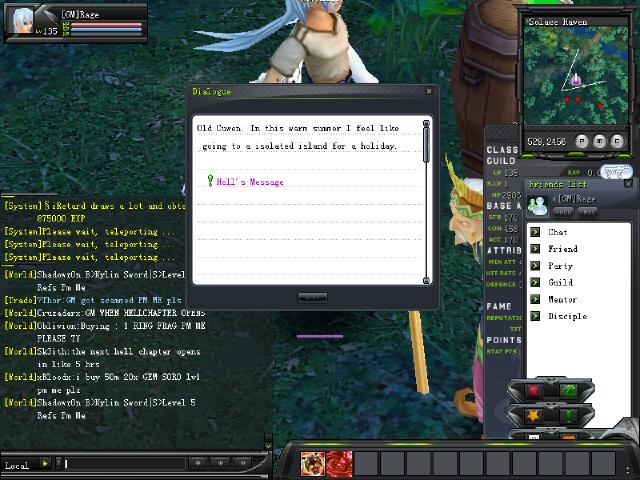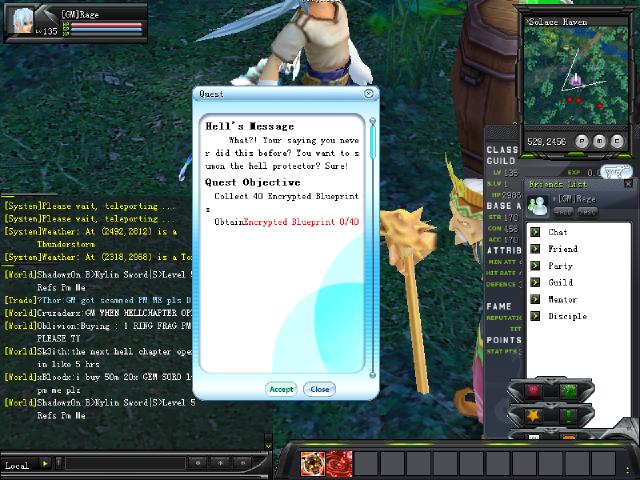 once you complete the sub quest, you can kill the mobs for the 4th part of 4th rb quest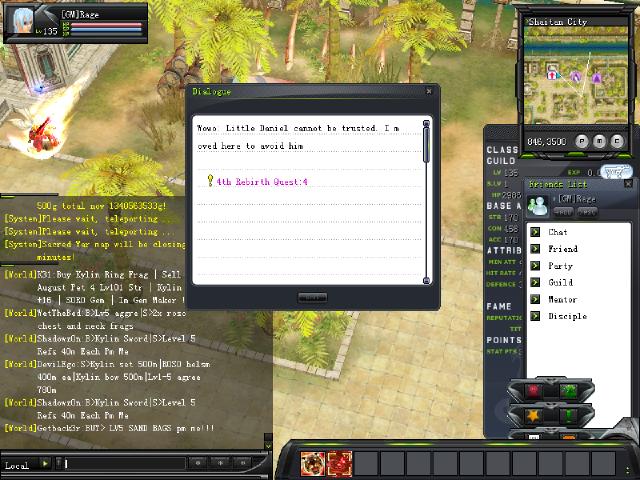 next go to guild master forlan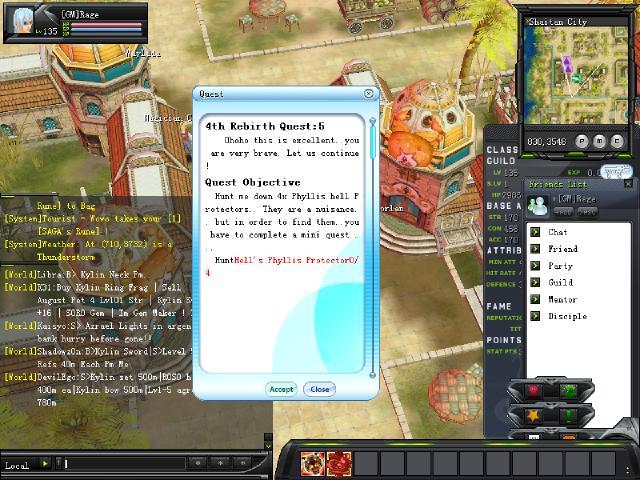 (Note: the rest of the guide might not show the quest cuz i was too lazy to finish LB quest to show you)
you will do ANOTHER sub quest to get these mobs, which you can get from the fat lady in spring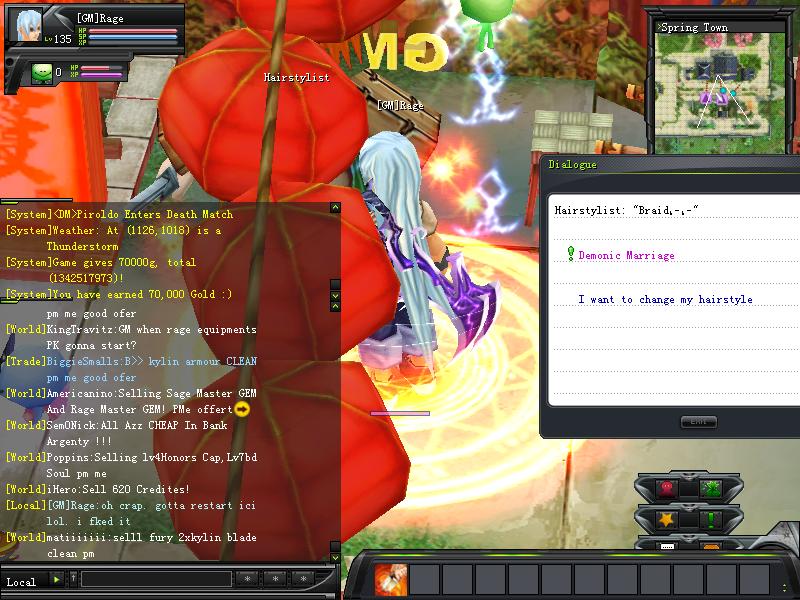 do that, kill the mobs, then go back to forlan and complete it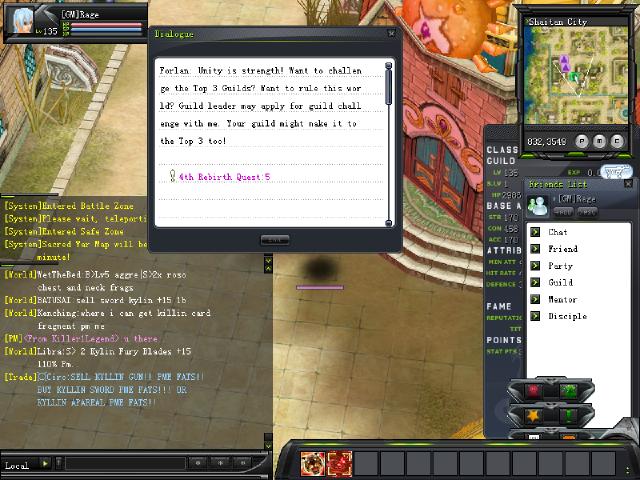 after that, you are at the final part of 4th rb, you go to tink in icicle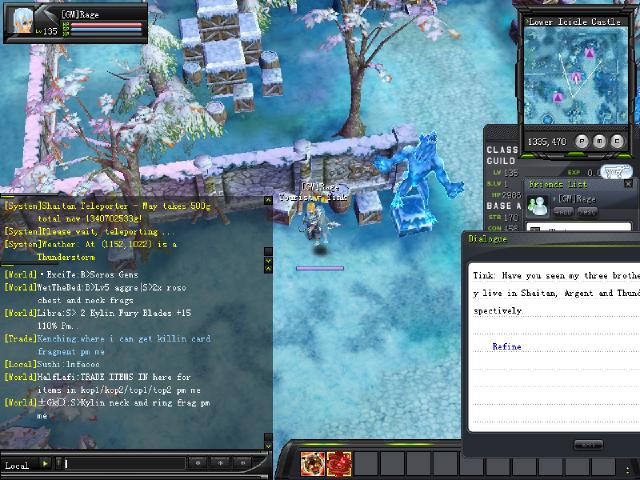 do the last sub quest which you can get from spring commerce guy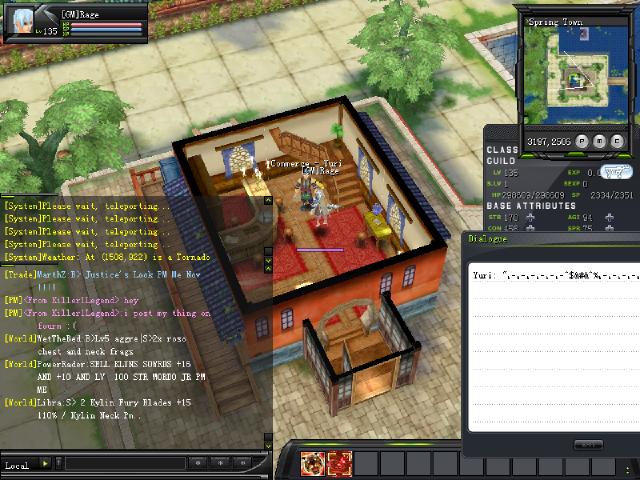 then go back to tink and you should get your 4th rb stone.
Go to heaven using goddess favor (5k rep in npc) and BOOM! you will have completed 4th rebirth
In the end when you're all finish on 4th RB. MAKE SURE you have your MASTER NECKLACE in your BAG and NOT EQUIPPED. Once you do that you then can use your Master Skill scroll and obtain Master Teleportation.