content
TRANSLATE
Note: Not all translations may be 100% accurate.
ROSO Game Guide
Welcome to our Game Guide! These guide(s) were made in order to help you out in your journey through ROSO!
For more information about any item(s) or monster(s) in our server, check out our Game Database
Note: You can hover your mouse over any icon for more details about that item.
This guide was last updated on January 20th, 2019
R-Scout
R-Scout
R-Scout stands for "ROSO Scout". It is a way for existing players to "scout" out new players to join our server via giving them a scout code to register with. As they continuously play the server, both you and the player you "scouted" will be rewarded!
You can access your Scout Page via the link on the sidebar of your account page.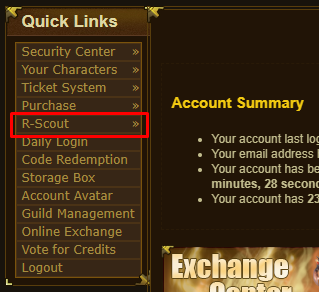 [HOW IT WORKS]
1.) You generate your personal scout code/link
2.) You send out your personal scout code/link
3.) Somebody registers with your scout code/link
4.) That person is then placed under your "Scouts"
5.) When that person reaches and redeem their Tier reward, you'll get rewarded as well!
[PRIZES]
The prizes are rewarded in tiers. Meaning in order to get the prize, the Scout must have done the following.
Tier I - Created a new character and stayed online for 24 hours (1 day)
Tier II - Created a new character and stayed online for 72 hours (3 days)
Tier III - Created a new character and stayed online for 120 hours (5 days)
Recruiter
Scout
Tier I
(1 Day Online)
10x + 1x
1x + 1x
Tier II
(3 Days Online)
1x + 15x
99x + 1x
Tier III
(5 Days Online)
1x 2 + 10x + 1x
1x + 1x + 1x + 10x
You'll be able to check how long you've stayed online via the Scout Page.
Note1: Until the scout's account has redeemed the Tier III prize, they will not be able to participate in the "Online Exchange" feature.
Note2: You'll only receive this necklace once.
Note3: The recruiter will be able to only obtain their reward after the scout has.
Note4: You cannot "scout" yourself.
[SCOUT NECK]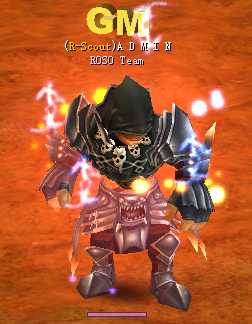 When you equip a Scout Necklace

, you'll get a 15% HP bonus.
Note1: You can use the command /buff to see it in effect